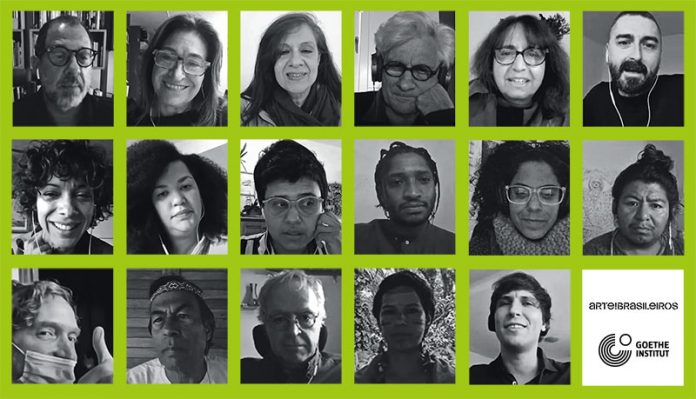 Held in different cities and institutions, international seminars and debates organized by arte!brasileiros are considered important spaces for reflection, diffusion and diffusion of contemporary critical thinking, related not only to the world of art, but to society as a whole. From "Collecting in Brazil in the 21st century", in 2012, to "Cultural Management: Contemporary Challenges", in 2019, a large number of thinkers from different countries and areas were able to dialogue among themselves and with the public about a wide variety of themes.
Continuing this journey, on October 8 and 9, 2020, arte!brasileiros held, in partnership with the Goethe-Institut, the "VI Virtual International Seminar ARTE!Brasileiros: In defense of nature and culture – the art of possible". This time, not at the Ibirapuera Auditorium, Itaú Cultural, MAM-SP or CCBB Rio – places that have hosted these events -, but on the web, on the YouTube platform.

The impossibility of the face-to-face meeting, resulting from the Covid-19 pandemic and the need for social isolation, brought several new challenges and some difficulties, but it also resulted in a great "collateral advantage" – so to speak -, a much higher audience seen in previous events. There were about 5,000 accesses during the two days of the event, with numbers that continue to rise on the platforms, since the event is still available on our channel.


The theme of the pandemic, which does not appear disconnected from the destruction of nature and attacks on culture experienced in the world – and especially in Brazil -, permeated the speeches of environmentalists, philosophers, scientists, artists and curators who participated in the seminar. In the next pages, in five texts, the reader will have full coverage of the presentations that brought together, on the 8th, the indigenous artist and militant Naiara Tukano, the indigenous leader and environmentalist Ailton Krenak, the scientist Antônio Donato Nobre, the curator Andrea Giunta (12th Mercosul Biennial), artists Bárbara Wagner and Benjamin de Burca and philosopher Franco "Bifo" Berardi; and, on the 9th, curators Beatriz Lemos, Diane Lima and Thiago de Paula Souza (3rd edition of Frestas – Triennial of Arts), artists Edgar Calel and Aline Baiana and curators Agustín Pérez Rubio and Lisette Lagnado (11th Berlin Biennial).
A few days after the event, we received, with great joy, the news that our publisher Patricia Rousseaux and arte!brasileiros were winners of the ABCA Award – Brazilian Association of Art Critics – 2019, in the category "Antônio Bento Award – diffusion of visual arts in the media". This recognition validates our work and gives us the strength to continue.